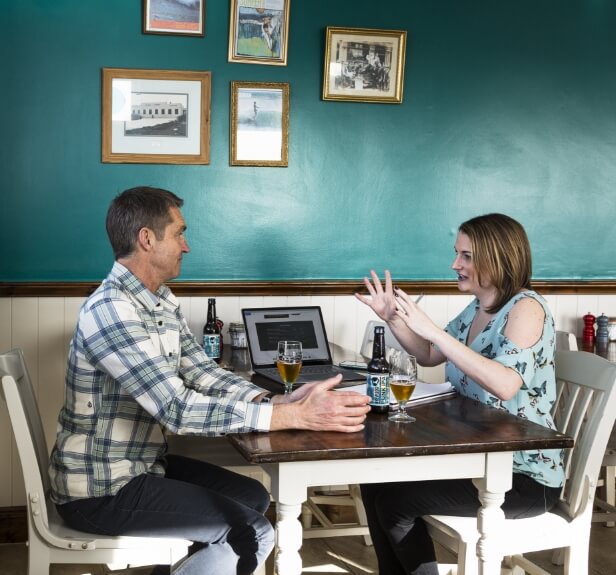 As Axal Leine approach their 6 month milestone, Lian the superstar Administrator, decided to quiz Renny and Natalie to get some juicy insights on the highs and lows so far, and what the future holds for Axal Leine.
Q – Looking back now at the challenges you faced, if you had to do it all again, would you?
Natalie – Yes definitely, it's been a roller coaster for sure, but the positives have far outweighed the negatives. I feel like I've learnt so much already, that's what makes it so exciting. So yes I would.
Renny – Absolutely, we were really lucky to have a good start, slightly delayed because of lockdown, but our network quickly reached out to us both and kept us really busy, which was great and so very much appreciated.
Q – Did you have a moment when it became "Real", when your plans became a reality?
Renny – Several actually, when we came up with the name, which is an amalgamation of our children's names Alex, Albie and Madeleine. When first saw our brand design, when the website was ready to go live, our first placement, oh and when we received our first business related bill!!
Natalie – I agree with Ren so many, signing our first client, receiving our first candidate registration, sending out our first invoice! All milestones that we'll remember for a long time!
Q – Can you tell us what you have enjoyed the most?
Renny – I've loved telling the world about Axal Leine & seeing our brand come to life, that's been superb. Also, being able to be truly honest with who we are on our website and social media. That is sooo much fun. Us on the beach, or waking in the woods, me surfing a man-made wave…why not!! But the utterly satisfying part will always be helping people, candidates and clients alike. This is the part I enjoy the most.
Natalie – I know it's a cliché but we do work with amazing people. Clients and candidates, people make life interesting and if we can improve life for someone in any small way then I am happy. And, that I have enough flexibility to be able to pick my daughter up from school for the first time ever!
Q – Ok you know what's coming next! What's been the biggest challenge?
Natalie – Covid! In all seriousness we have been lucky despite the Covid situation and we are very grateful. But for me it's been deciding whether to commit to things, like an office, when the world is so unpredictable.
Renny – Covid! When we launched we had everything ready to go but no jobs as most all companies in the finance sector understandably put a recruitment freeze in place. So that was quite a nervous time (understatement of my life!!) because it was out of our control, but it came good pretty quickly.
Q – So what can we all look forward to seeing from Axal Leine over the next 6 months?
Renny – Well if this rain continues you'll be seeing our umbrellas around!! Hopefully we'll be able to have the launch party we planned, and be able to take out all the wonderful folks who've helped us get to where we are. We'll be forever grateful.
Natalie – We have lots of plans and hope we can implement them all. We're putting little gifts together for the candidates we place to receive on their first day. We would also like to focus on some innovation that will hopefully disrupt the industry, but I can't say too much more at this stage!! And hopefully, be able to grow the team!
Thank you to our Co-founders for taking the time to answer the questions. Keep an eye on the website for all the exciting things to come from Axal Leine.