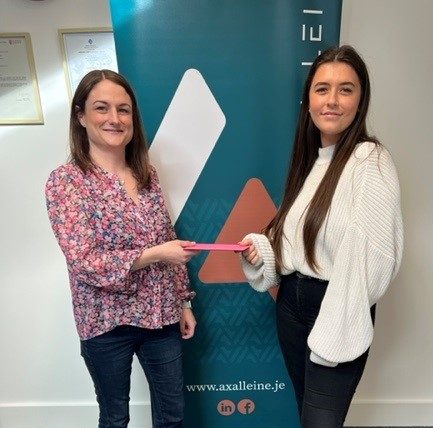 When working with Lian, I was taught all the various administrative tasks and responsibilities she does each day. She explained what she did, and I was able to do some tasks myself with her help, such as posting new roles on the Axal Leine website, doing candidate CVs and posting on Axal Leine's social media. I also went with Lian to take an Axal Leine starter pack to a candidate who had just started a new role. Working with Lian gave me a good insight into what goes on behind the scenes, and the process of recruitment from the jobs being posted on the website to candidates being placed in new roles.
I also worked with Lucinda for a couple of days where I was able to watch and help her with her usual tasks and responsibilities. Lucinda interacts with clients and candidates a lot, so I was able to see the relationships she has with them both. I attended a few meetings/catch-ups with candidates who had recently been placed in new roles to discuss how they were feeling about it to make sure they are enjoying it and that it is the right fit for them. Axal Leine makes sure to maintain good relationships with candidates even after being placed to ensure they are still happy with their choice, which is great to see and really shows that they genuinely care about their candidates.
Throughout my placement at Axal Leine, I also attended a couple of client visits which included visiting clients' offices, having a tour of the office, and a discussion about what both Axal Leine and the client could improve to make the recruitment process easier for both, as well as what they think is done well. This gave me a good insight into Axal Leine's relationship with their client's as they want the recruitment process to be as easy as possible for their clients as well as maintain a good relationship by visiting regularly to catch up. They also like to maintain a good relationship with their clients to gain more knowledge about their business to place candidates in the right company for them.
During my two weeks, I was able to get involved in some of the financial responsibilities of the business too. I worked with Natalie and went through some recent placements that had been made to invoice clients. Natalie showed me the process of invoicing clients for fees and how much they get for each placement. I then did a couple myself which was helpful as I got to see the financial side of the business.
As well as learning about the recruitment and finance industry, I also learned a lot about what goes into setting up a business and the process behind it, as well as keeping it running successfully. I sat in on a business meeting with Renny and Natalie where they discussed things such as the resources they need and client events. I then had a chat and coffee with Renny where he told me about his past career and what lead to him and Natalie setting up Axal Leine.
I also had a chat with Natalie later on where she spoke about all of the steps and processes that went into opening the business including things such as contracts, insurance and licensing, etc. It was good to hear about what went into setting up the business, the story behind it, and all of the things that had to be done to set Axal Leine up. It was very clear from the conversations I had with Natalie and Renny that they are very passionate about the business and want all of their candidates to be in a job they love, which is why Axal Leine exists.
On my last day of placement, Axal Leine took me out for lunch as a thank you for my work over the two weeks as well as a celebration for Axal Leine's second birthday. I really enjoyed the past couple of weeks with them and felt very welcome and at ease straight away. Not only have I gained skills within an office environment, but I have expanded my knowledge.
Axal Leine has also guided me through the industry and provided me with full-time employment options for when I finish college.